T700
The T700 dash cam connects to your smartphone in real-time from anywhere around the world. SOS alerts, live view, impact parking videos, parking image, vehicle status & driving history can all be accessed remotely via the Thinkware smartphone app. (Active 4G nano SIM Card required (not included) with SMS & internet to gain access these features. COMPATIBLE WITH TELSTRA & VODAFONE ONLY.
THINKWARE CONNECTED

LTE
Compatible with Telstra & Vodafone 4G LTE Networks (NOT COMPATIBLE WITH OPTUS)
With 4G LTE technology on-board, the dash cam connects to your smartphone in real-time from anywhere. Simply insert an active nano size 4G SIM Card (not included) with SMS and internet data into the dash cam to gain access to the Advanced Connected Features. Australian Version compatible with Telstra and Vodafone 4G LTE Networks (not compatible with the Optus Network).
The NEW THINKWARE CONNECTED LTE mobile app offers a wide range of smart features. Now you can truly communicate with your vehicle in real-time seamlessly. One account on Thinkware Connected LTE can connect up to five dash cam devices.
THINKWARE CONNECTED LTE
Smartphone App*
*Compatible with Android (7.0 Nougat or higher) and iOS (11.4 or higher)
---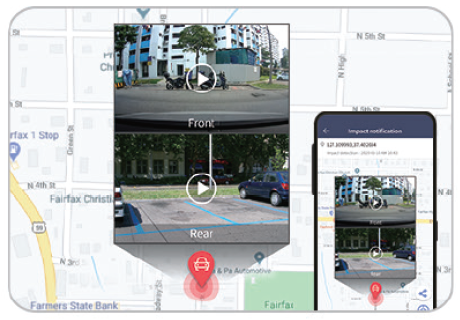 Real-Time Parking Impact Video
When an impact is detected in standard parking mode by the dash cam, receive a notification and play the 20 second Full-HD video (10 seconds before and after the incident) on your smartphone.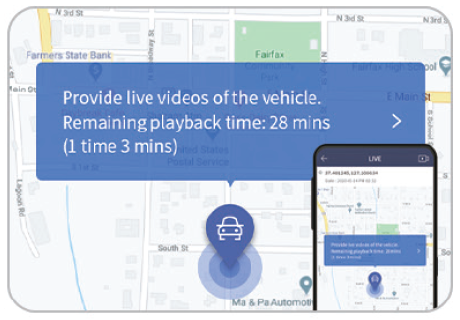 Remote Live View
Remotely view your dash cam in Continuous Recording Mode and Standard Parking Mode by clicking the Live View Button on the app home screen.
*Remote Live View can be requested up to 300 minutes a month.
**Remote Live View is unavailable in Energy Saving Mode when your vehicle is parked.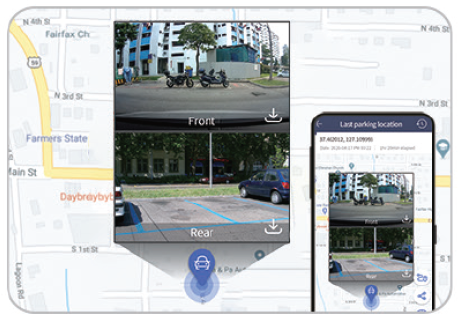 Captured Image of Parked Vehicle
In Parking Mode, check the location of your vehicle and its surroundings. View a Full-HD image of your front and rear camera including the location of your parked vehicle.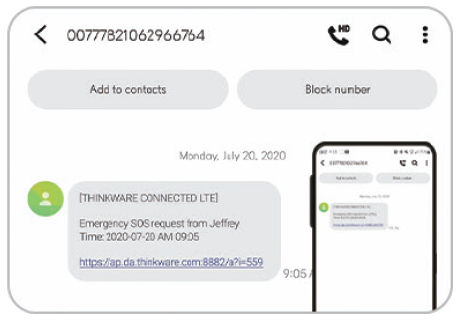 Emergency SOS Alert
A SOS message and video will be sent to your emergency contact in the event of a strong impact crash or when the driver presses the SOS button on the dash cam.

* Strong impact crash message includes a 20 seconds video (10 seconds before and after the incident) and location of the crash. SOS recording message includes a 10 seconds video (5 seconds before and after the incident) and location of the crash.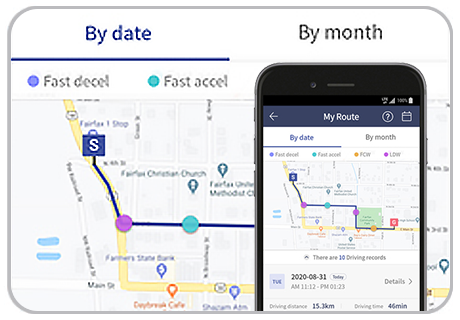 Vehicle Status and Driving History
Monitor your vehicle's status to check whether your vehicle is parked or operating on the road.View your driving history including data such as date, time, distance, route and driving behavior. Check your vehicle battery voltage and remotely turn off the dash cam when the battery voltage is low.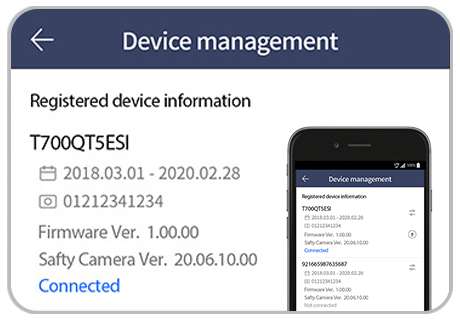 Remote Firmware Data Update
Update your dash cam remotely to enhance your dash cam's features, maintain optimal operation and increase stability. Firmware download can take up to several minutes and you will receive a push notification once the download is complete. Check the firmware download and reboot the dash cam to start firmware update.
* No new videos can be recorded while saving the 20 seconds of first impact file.
** If a second or third impact is detected, an additional push notification alert of the impact is sent to the user's smartphone. And if those impacts are within 10 seconds from the first impact, it can be seen in the remaining seconds of the first impact file (e.g. If, a second impact is detected 2 seconds from the first impact, 8 seconds are the duration of the second impact video).
*** Strong impact videos are recorded for 20 seconds (10 second before and after the incident) at 30 frames per second. The videos are uploaded on to the server and your emergency contact will receive an SMS message including the impact details and video URL. The strong impact notification, strong impact video upload and transmission to emergency contact is an unlimited service.
**** The service behavior and the transmission may vary depending on the server environment and your mobile data.
Read More about the Connected LTE Features
---
QUICK DOWNLOADS

VIA BUILT-IN WI-FI
Wi-Fi connectivity supports both 2.4GHz and 5GHz bands for the best experience in different environments.

2.4GHz has a longer range and can be captured from a farther distance. The longer range network also captures other devices thus preferred in undisrupted environments.

5GHz has a shorter range and can offer better performance with a higher bandwidth. The shorter range network avoids interferences thus preferred for a less congestive experience within shorter distances.

*Download speed and connection experience can differ according to smartphone specifications and telecommunications conditions.
**5GHz band may be more suitable for cities due to possible disruptions in telecommunications environments.
---
THINKWARE

DASH CAM LINK
*Compatible with Android (7.0 Nougat or higher) and iOS (13.0 or later)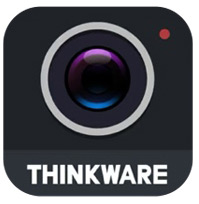 *Thinkware Dash Cam Link Legacy compatible with iOS 11 or 12
PLAY RECORDED VIDEOS AND MANAGE SETTINGS ON SMARTPHONE
The Thinkware Dash Cam T700 and your smartphone can be connected via
'THINKWARE DASH CAM LINK' app with built-in Wi-Fi.
Check live view screen, play recorded videos, and manage dash cam settings.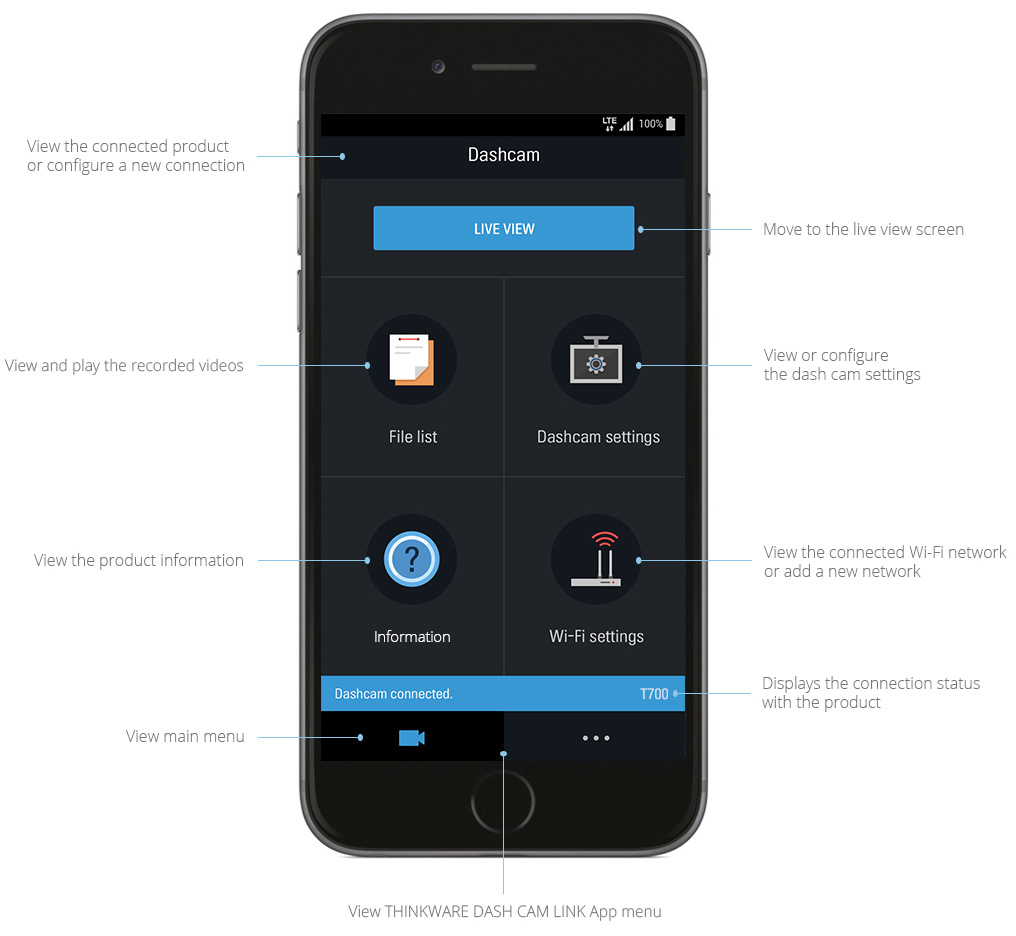 * Dash Cam and Smartphone must be within 5M of each other and the Dash Cam must be powered on for Wifi Connection.
---
COMPREHENSIVE DRIVING DATA INFORMATION

THROUGH BUILT-IN GPS
Using the GPS data can precisely pinpoint the vehicle's location and routes with its driving speed on the map.The GPS helps you accurately assess the status of the accident by providing you with the vehicle speed,the direction of the collision and the severity of impact. The dash cam not only records driving footagebut can also be used to track and recall past driving routes whether it be work or holiday routes.
---
Advanced Driver Alert System
(ADAS)
Helps you stay safe on the road with alerts for lane departures, front vehicle departures, and potential forward collisions.
LDWS
Lane Departure Warning System
Designed for distracted or drowsey drivers, the dash cam will alert you as soon as it senses you're vehicle leaving the lane while driving at a speed of over 50 kilometres per hour. LDWS alerts you when leaving your lane to help keep any road misfortunes from ruining your trip or compromising you and your passengers' safety.
FCWS / uFCWS
High Speed / Urban Forward Collision Warning System
Keep a safe distance from the vehicle you're following with the help of FCWS / uFCWS. Equipped with a state-of-the-art road safety warning system, it calculates the real-time distance between your vehicle and the automobile in front of you at a speed of over 30 kilometres per hour (km/h) (in expressways) and under 30 km/h in a busy, congested city. This dash cam issues a three-level early warning to the driver, depending on the danger of the possible collision.
FVDW
Front Vehicle Departure Warning
When stopped at an intersection or a traffic jam, this dash cam's Front Vehicle Departure Warning (FVDW) intelligent guidance system lets you know when the vehicle in front of you has already started moving, helping you stay attentive each time.
---
SAFETY CAMERA
ALERTS
This dash cam comes with various Safety Camera Alert functions aimed at helping drivers abide by traffic rules and regulations to avoid getting ticketed for an infraction. Through the built-in GPS, it lets a driver know about a designated average speed camera & mobile speed zones and notifies drivers of upcoming fixed red-light and speed cameras.
---
HIGH DEFINITION

VIDEO QUALITY
CMOS Image Sensors allow constant front and rearview 1080P Full HD resolution recording during both daytime and nighttime. The 140-degree front and 160-degree rear cam wide angle lens view will minimiseblind spots to assure recording of all events without fail.
---
DUAL

CHANNEL
The T700 has a second camera input, allowing the addition of an optional camera.
The second camera options include:
1080P FHD Internal Rear Window Camera
1080P FHD Internal Infrared Cabin Camera
1080P FHD External Rear Camera
1080P FHD External Side Camera
The T700 is available as a pack with the Internal Rear Camera included, and also available as front cam only so you can select the optional camera to suit your vehicle and application.

View the MODELS tab for optional camera models.
5 CHANNEL

DASH CAM SOLUTION
The optional Thinkware MULTMOD Multiplexer Module transforms Thinkware T700 Dash Cam into a five channel dash cam solution. The module connects to the rear input of the dash cam and allows up to four additional cameras to be connected. The recorded footage from the additional cameras merge together to provide a single split screen 1080P FHD video file.

For more information on the Multiplexer Module CLICK HERE
---
STATE-OF-THE-ART

VIDEO ENHANCEMENTS

Wide Dynamic Range (WDR)
Whether you're driving under bright sunlight, heading out of a tunnel or getting under the shadow of a tall building, the WDR feature helps get you through a sudden change in frontal light exposure levels that yield excessively bright or dark recordings. WDR does this by getting rid of overly bright spots and correcting colour balance to produce nothing but clear images.

Super Night Vision 1.0
Using the latest Image Signal Processing (ISP) technology, the dash cam records videos up to 10 times brighter even in low-light environments like dark alleyways or underground parking lots during standard parking mode recordings.

Automatic Exposure
A sudden rise of light exposure brought about by intense sunlight or headlight beams from oncoming vehicles, or poor lighting in a tunnel may give any ordinary dash cam trouble capturing clear images. The T700 comes with an automatic light exposure function that controls light exposure levels for crisp footage at all times.
---
VARIOUS AUTONOMOUS

RECORDING MODES
ENERGY SAVE

PARK MODE
This feature significantly trims down your power consumption to up to 1/3 less, while giving you as much as 3x longer video recording capability. Serves you well when you're on a vacation or you need to leave the vehicle unattended for quite some time, the Energy Save Parking Mode instantly puts the dash cam to sleep after capturing 20-second footage of an impact or motion detected by the G-Sensor.
TIME LAPSE

PARK MODE
Records at 2 frames per second, the Time Lapse Park Mode makes it possible to reduce the video files' size; hence, this can capture videos from your parked vehicle up to 16 times longer than other dash cams can. This ensures important clips or images will stay safe in it's memory for the long haul.
---
HIGH-TEMPERATURE


PROTECTION SYSTEM

Like all THINKWARE dash cams, it has a built-in thermal sensor that protects it from getting hounded by the intense heat. Clad in a specially-designed heat discharge construction, the sensor automatically shuts it down to prevent overheating, allowing the dash cam to thrive even in the harshest Australian weather conditions.
---
VIEWER FOR CHECKING CLEAR AND PRECISE VIDEO
The intuitive and simple-to-use interface allows you an easy and convenient viewing of your recorded videos. Through PC or Mac viewer, you can playback and download recorded videos along with your route history and speed record. You can also change the dash cam settings, format the memory card, or install updates with just a few clicks on the viewer.



FULL SPECIFICATION
Number of Channels
2***
Resolution
Full HD 1080P (front) / Full HD 1080P (rear)
Frames Per Second
30
Camera Angle
140° (front) / 160° (rear)
Image Sensor / Camera Type
Front: 2.1M ON SEMI CMOS
Rear: 2.12MP IMAGE SENSOR
Dimensions / Weight
110 X 60 X 32 MM / 128G
Video Enhancement Technology
----------------------------

Wide Dynamic Range

Yes

Super Night Vision

Yes (during standard parking mode only)

Intelligent Automatic Exposure

Yes
WiFi
Yes (Supports 2.4GHz & 5GHz)
GPS
Yes
G-Sensor
Yes
Super Capacitor
Yes
High Temperature Protection
Yes
Operating Temperature
-10°C to +60°C
Storage Temperature
-20°C to +70°C
Power Input
DC 12/24V
Power Consumption
2CH 4.6W/1CH 3.4W (mean)
Voltage Detection / Cut Off
Yes
Accessory Socket Power Adaptor
Not Included
Hard Wire Kit (HWC)
Included
Mounting Type
Adhesive
Thinkware Connected LTE
----------------------------
Thinkware Connected LTE
----------------------------
Compatible SIM Card 4G LTE Bands

Australian Version, compatible with Telstra & Vodafone

2100MHz (B1) – TELSTRA, VODAFONE
1800MHz (B3) – TELSTRA, VODAFONE
850MHz (B5) – VODAFONE
2600MHz (B7) – TELSTRA, VODAFONE
900MHz (B8) – TELSTRA, VODAFONE
700MHz (B28) – TELSTRA, VODAFONE
2300MHz (B40) –

Vehicle Battery Voltage
Yes*
Remote Dash Cam Power Off
Yes*
Driving History
Yes*
SOS Notification, Video Backup, SMS Transmission
Yes*
Driving Impact Notification, Video Backup, SM Transmission
Yes*
Parking Impact Notification and Video Backup
Yes*
Download and Share Event Location and Recorded Video
Yes*
Last Park Image Capture
Yes*
Real-time Vehicle Location
Yes*
Remote Live View
Yes*
Safety Camera Alerts
----------------------------
Fixed Speed Camera
Yes
Mobile Speed Camera Zone
Yes
Average Speed Camera Zone
Yes
Red Light Camera
Yes
Advanced Driver Alert System (ADAS)
----------------------------
Lane Departure
Yes
Urban Forward Collision
Yes
High Speed Forward Collision
Yes
Front Vehicle Departure
Yes
Recording Modes
----------------------------
Continuous Loop
Yes
Impact Incident
Yes
Manual
Yes
SOS Recording
Yes
Park Motion Detect
Yes**
Park Impact/Incident
Yes**
Park Time Lapse
Yes**
Park Energy Save
Yes**
Audio/Voice
Yes
Video Format
MP4
Video CODEC
H264
Audio CODEC
PCM
Compatible Apps
Thinkware Connected LTE & Thinkware Das Cam Link (Requirements: Android 7.0 Nougat or higher and iOS 11.4 or higher)
Memory Card Capacity / Class
Supports up to 128GB UHS-1
Warranty
2 Years on camera hardware, 12 Months on Micro SD
Country of Manufacture
Korea

Important Information

(Notes)

(*) To use the 4G LTE Connected Features and App, the dash cam requires an active 4G nano SIM Card with SMS and internet data (not included). The SIM Card and Smartphone operating the app require mobile internet data and will consume data. Dash cam must be hardwired to vehicle to use the 4G LTE Connected features as well as parking mode features.

(**) The dash cam must be installed with the included HWC to enable these features.


(***) Optional rear cam F2PT7RA sold separately for T70032 model, included with T700D32 and T700D64 models.



SINGLE CAMERA KIT



DUAL CAMERA KIT