ALWAYS STAY CONNECTED WITH

4G LTE CONNECTIVITY
The following features and app are compatible with the T700 Model Australian Version which can operate on the Telstra and Vodafone 4G LTE Networks. Not compatible with Optus.
To use the 4G LTE Connected Features and App, the T700 Dash Cam requires an active nano size 4G SIM Card with SMS & internet data (not included).
The SIM Card and Smartphone operating the app require mobile internet data and will consume data. The Dash cam must be hardwired to vehicle to use the 4G LTE Connected Features.
Monitor your vehicle in real-time and experience a wide range of smart features on the Thinkware Connected LTE app.
* Compatible with Android (7.0 Nougat or higher) and iOS (11.4 or higher)
With 4G LTE technology on-board, the dash cam connects to your smartphone in real-time from anywhere.

Now you can truly communicate with your vehicle in real-time seamlessly.

Receive impact notifications, play videos (strong impact crash in continuous recording mode, parking impact),
view captured image of most recent parking, and monitor your vehicle status and driving history on your mobile.

One account on Thinkware Connected LTE can connect up to five dash cam devices.
---
REMOTE

LIVE VIEW
Remotely view your vehicle in both Continuous Recording Mode and Parking Mode.
Click on Live View button on your smartphone app to view a real-time video of your vehicle.

*Remote Live View can be requested up to 300 minutes a month on the standard data plan.
**Remote Live View is unavailable in Energy Saving Mode when your vehicle is parked.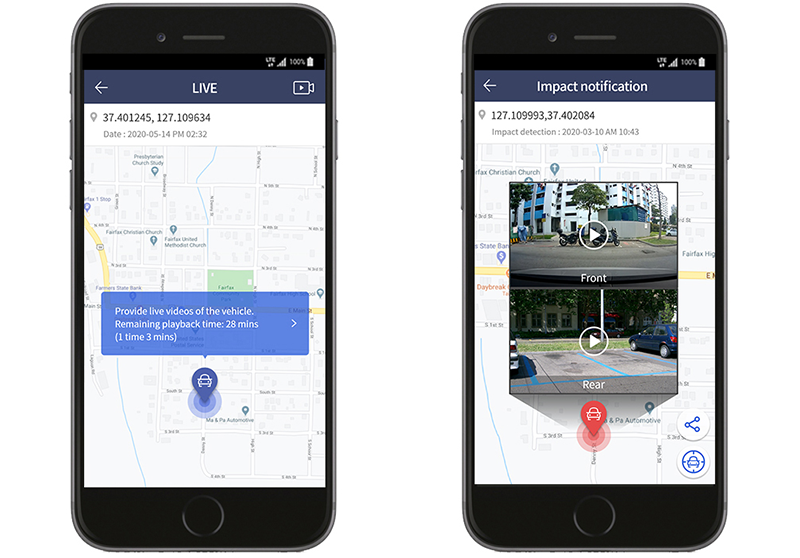 REMOTE LIVE VIEW BENEFITS
• Monitor your car when it is unattended.
(Home, the office, service center, valet parking, car wash, domestic travel)
• Ease concerns on misuse of new, precious or luxury cars when you leave it in other peoples' hands.
• Protect against vandalism and theft of your car and dash cam.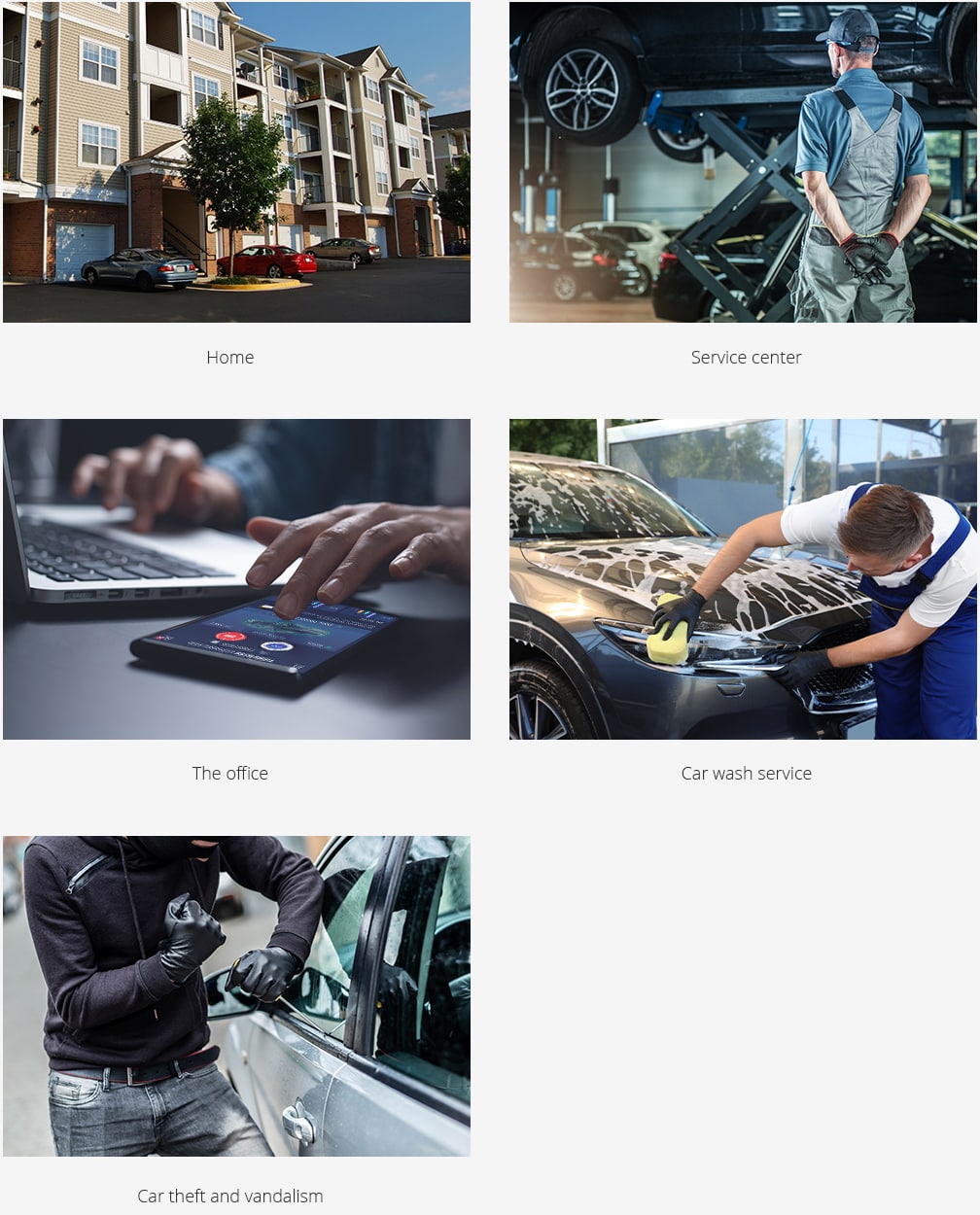 REAL-TIME

PARKING IMPACT VIDEO
In Parking Mode, you can immediately detect an impact with the dash cam.
Receive impact notification and play video of the impact on your smartphone.
Upon user consent, a 20 seconds Full-HD video (10 seconds before and after the incident) is uploaded on the server.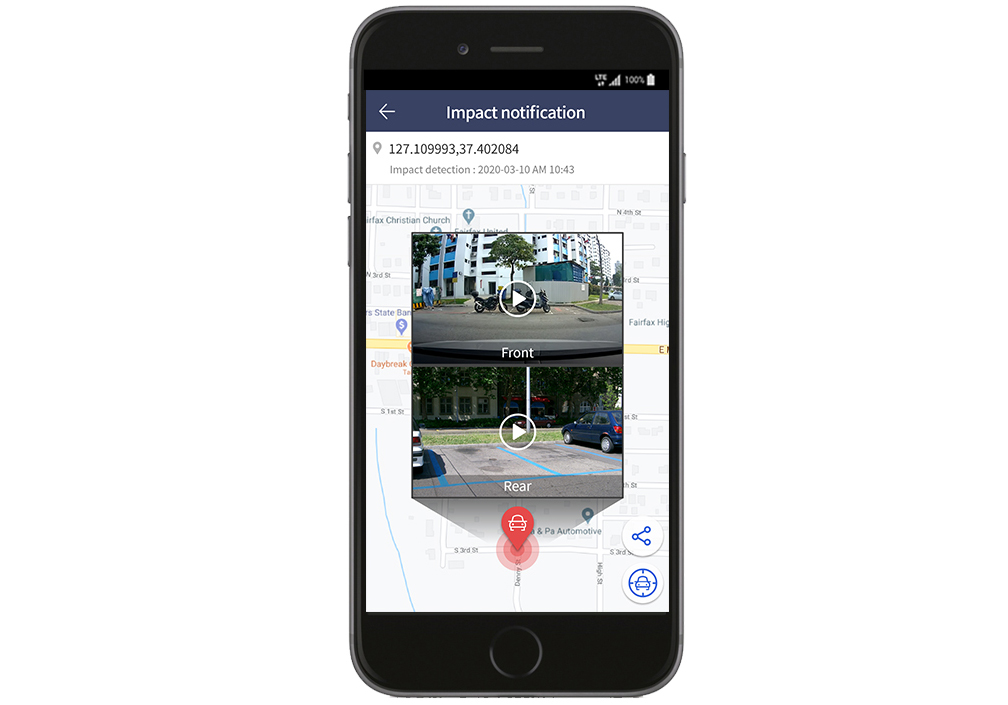 REAL-TIME PARKING IMPACT VIDEO BENEFITS
• Receive impact notifications when your car is parked.
(Busy street, shared parking space, shopping mall, trespassers entering private property)
• Immediately catch any hit-and-run incidents, view video uploads on the spot and notify authorities.
• Reduce physical and mental fatigue on checking dash cam footage and blind spot damages.
• Avoid dash cam footage being overwritten should you discover damages several days later.
• No inconveniences of setting up personal hotspot and problems related to hotspot connection.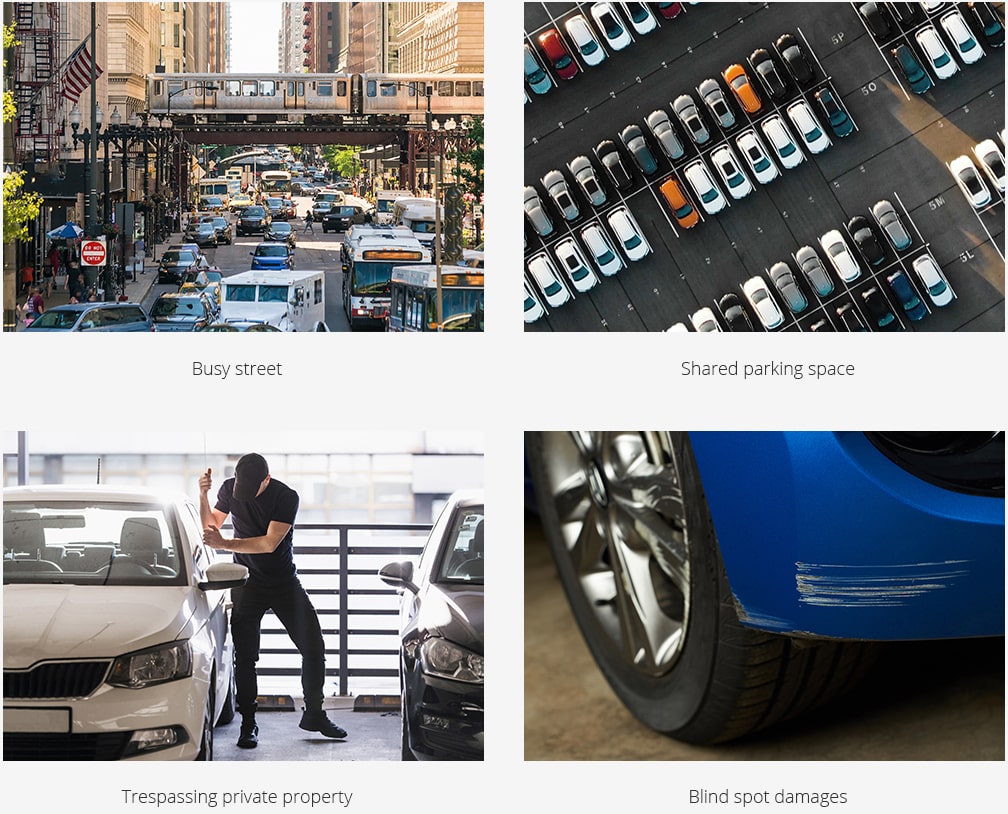 CAPTURED IMAGE

OF MOST RECENT PARKING
In Parking Mode, check the location of your vehicle and its surroundings.
View a Full-HD image of your front and rear camera including the location of your parked vehicle.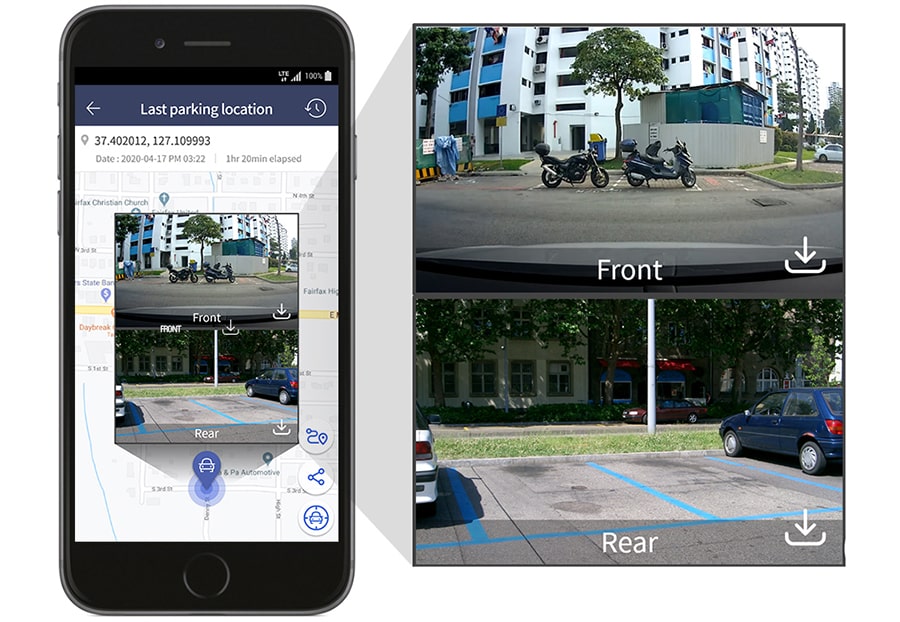 CAPTURED IMAGE OF MOST RECENT PARKING BENEFITS
• Check your parking location in large and crowded car parks.
(Shopping malls, supermarkets, exhibition/festivals, airport)
• Check the rough distance between your current location and your parking location on the app.
• Share your parking location with family members if they do not know where the car is parked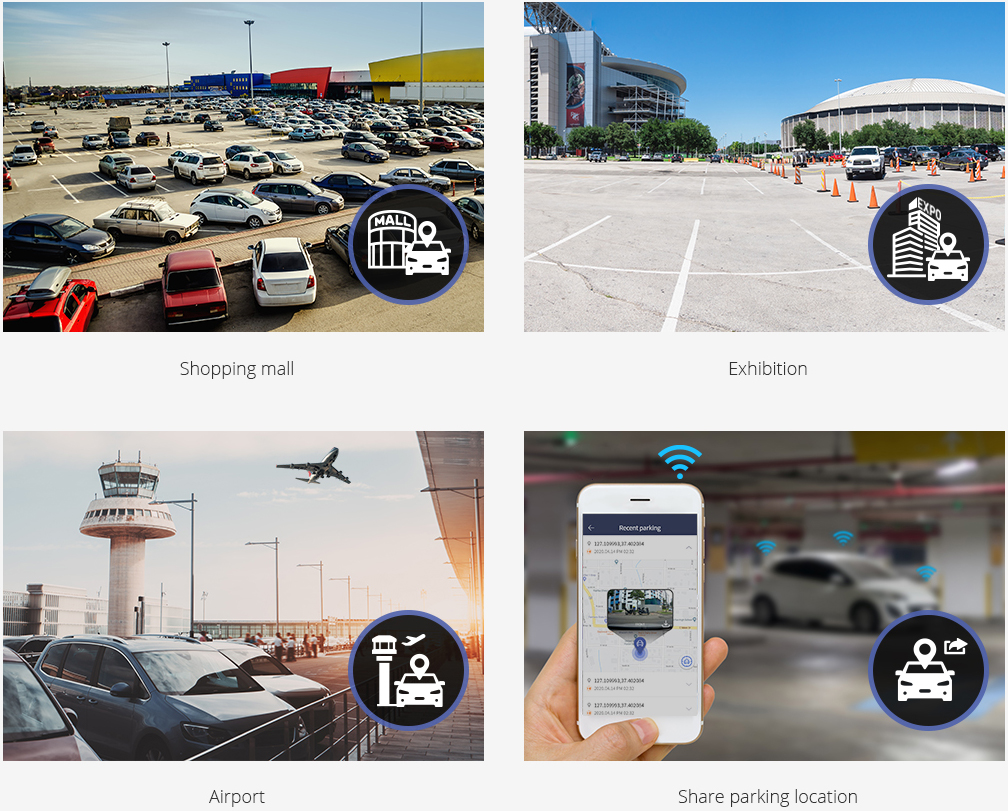 VEHICLE STATUS

AND DRIVING HISTORY
Monitor your vehicle's status to check whether your vehicle is parked or operating on the road.
Check your vehicle battery voltage and remotely turn off the dash cam when the battery voltage is low.
View your driving history including data such as date, time, distance, route and driving behavior.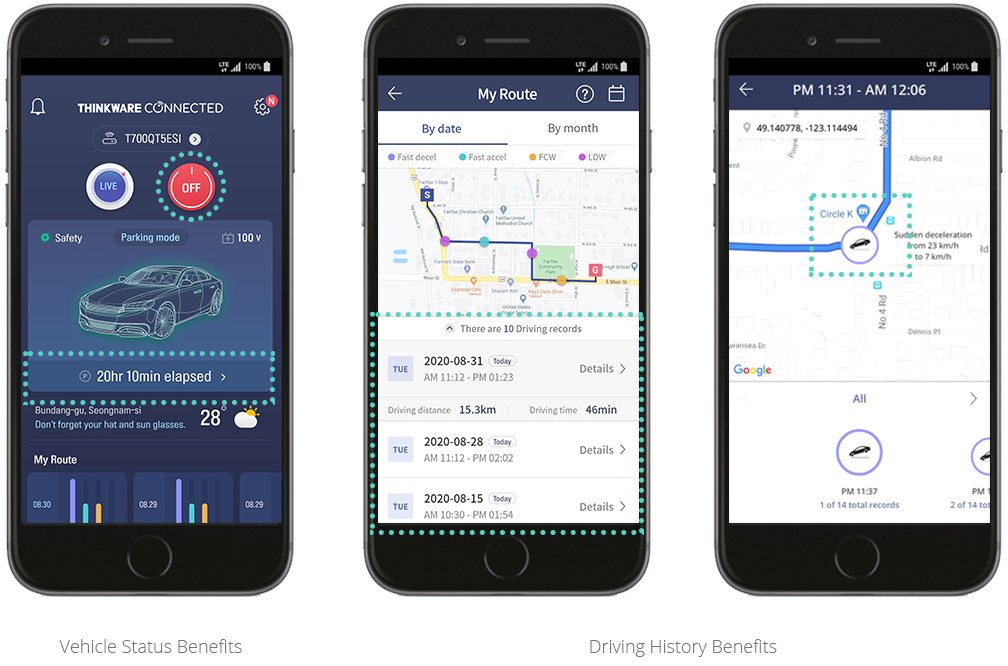 VEHICLE STATUS BENEFITS
• Conveniently monitor your vehicle's battery voltage on the app in Parking Mode.
• Check whether the dash cam is still operating when your vehicle is unattended for a long time. (Working overtime, business trip, travel)
• Ensure the hardwire kit turns off the dash cam at the minimum cut off voltage.
• Prevent battery drainage and protect your battery lifespan.
• Avoid engine ignition failure and battery insufficiency during cold winter seasons.

---
DRIVING HISTORY BENEFITS
• Keep track of driving time and routes whether it is an incident, area of interest, specific journey or off-roading adventure.
• Check driving patterns and time spent on routes for improving fuel efficiency.
• Manage distance travelled on driving journeys for business expenses, insurance or tax purposes.
• Be in the know of your family members' driving locations should an emergency arise.
• Immediate access to your driving history on mobile app without opening dash cam viewer on PC.

REMOTE FIRMWARE

DATA UPDATE
Update your dash cam remotely to enhance your dash cam's features, maintain optimal operation and increase stability.
Conveniently upgrade your firmware and speed cam data to the latest version on your smartphone.
Firmware download can take up to several minutes and you will receive a push notification once the download is complete.
Check the firmware download and reboot the dash cam to start firmware update.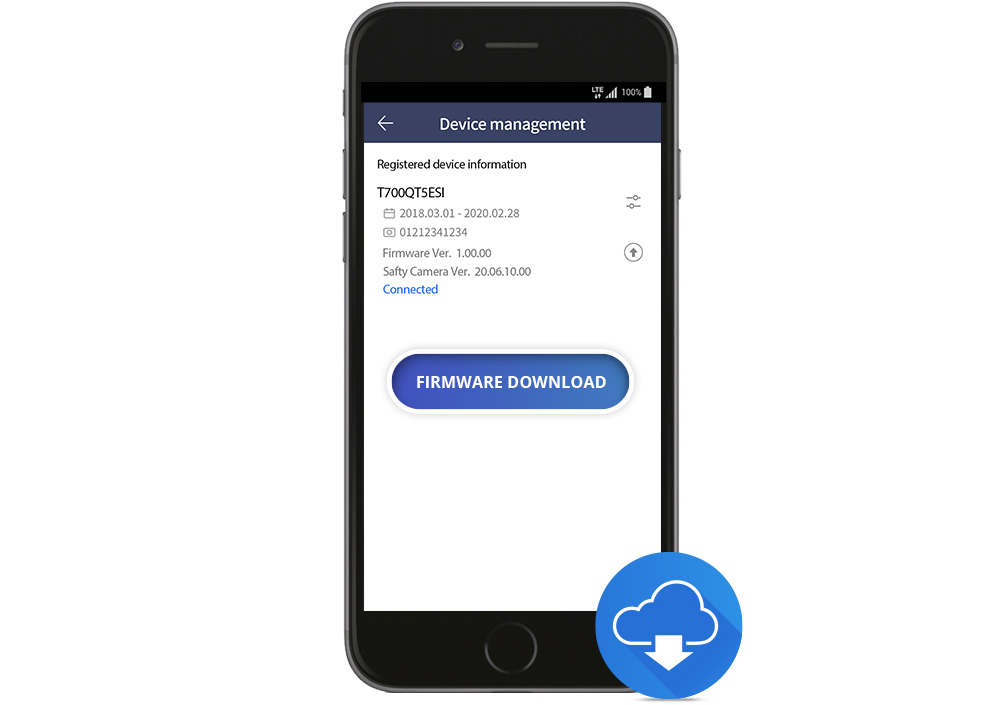 REMOTE FIRMWARE DATA UPDATE BENEFITS
• Update firmware on your mobile app within minutes without retrieving micro SD card.
• Get access to the latest firmware as soon as it is uploaded on the server.

SEND EMERGENCY

MESSAGE
In case of emergency situations, register the contact details of your family, friend or associate.
A SOS message will be transmitted to your emergency contact in the event of a strong impact crash
or when the driver presses the SOS button on the dash cam to urgently request for help.

Strong impact crash message includes a 20 seconds video (10 seconds before and after the incident) and location of the crash.
SOS recording message includes a 10 seconds video (5 seconds before and after the incident) and location of the crash.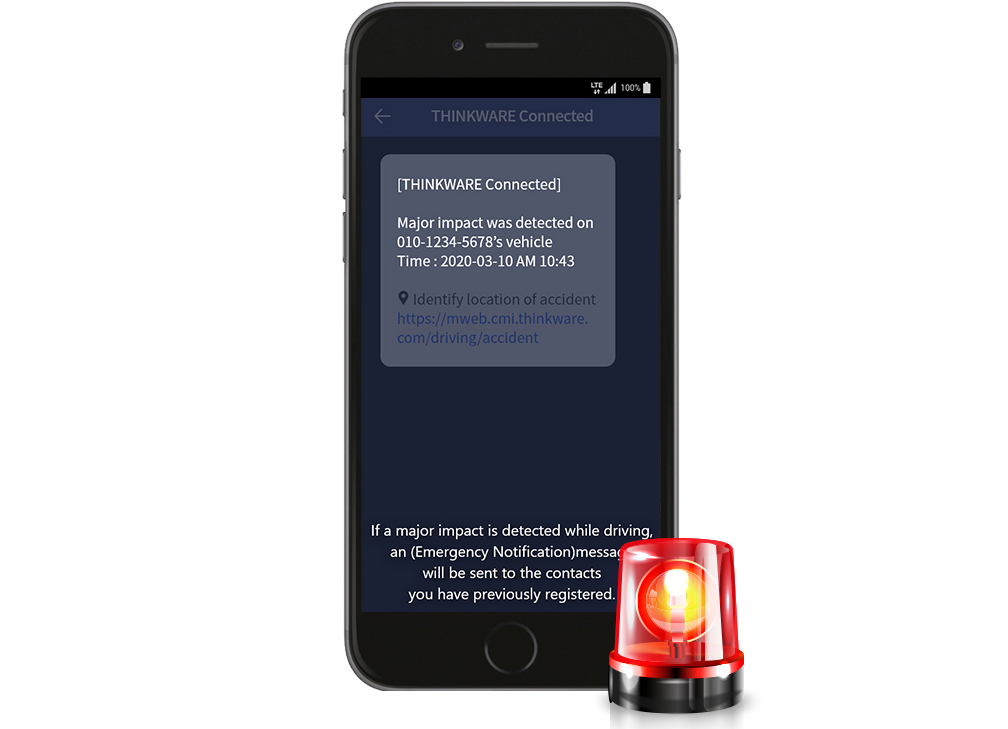 * No new videos can be recorded while saving the 20 seconds of first impact file.
** If a second or third impact is detected, an additional push notification alert of the impact is sent to the user's smartphone.
And if those impacts are within 10 seconds from the first impact, it can be seen in the remaining seconds of the first impact file
(e.g. If, a second impact is detected 2 seconds from the first impact, 8 seconds are the duration of the second impact video).
*** Strong impact videos are recorded for 20 seconds (10 second before and after the incident) at 30 frames per second.
The videos are uploaded on to the server and your emergency contact will receive an SMS message (from the dash cam SIM card) including the impact details and video URL.
The strong impact notification, strong impact video upload and transmission to emergency contact is an unlimited service.
**** The service behavior and the transmission may vary depending on the server environment and your mobile data.
SEND EMERGENCY MESSAGE BENEFITS
• Immediately send dash cam footage to emergency contact without having to download or retrieving micro SD card.
• Protect yourself from other drivers and life-threatening situations by sending out a SOS message.
• Ensure all your family members are protected even without your phone in the car via access to mobile app.
• Simple one-time registration process on mobile app hence no need for phone pairing with dash cam.
• No subscription fee for Send Emergency Message service as included in standard data plan. (Only SMS fee from mobile carrier)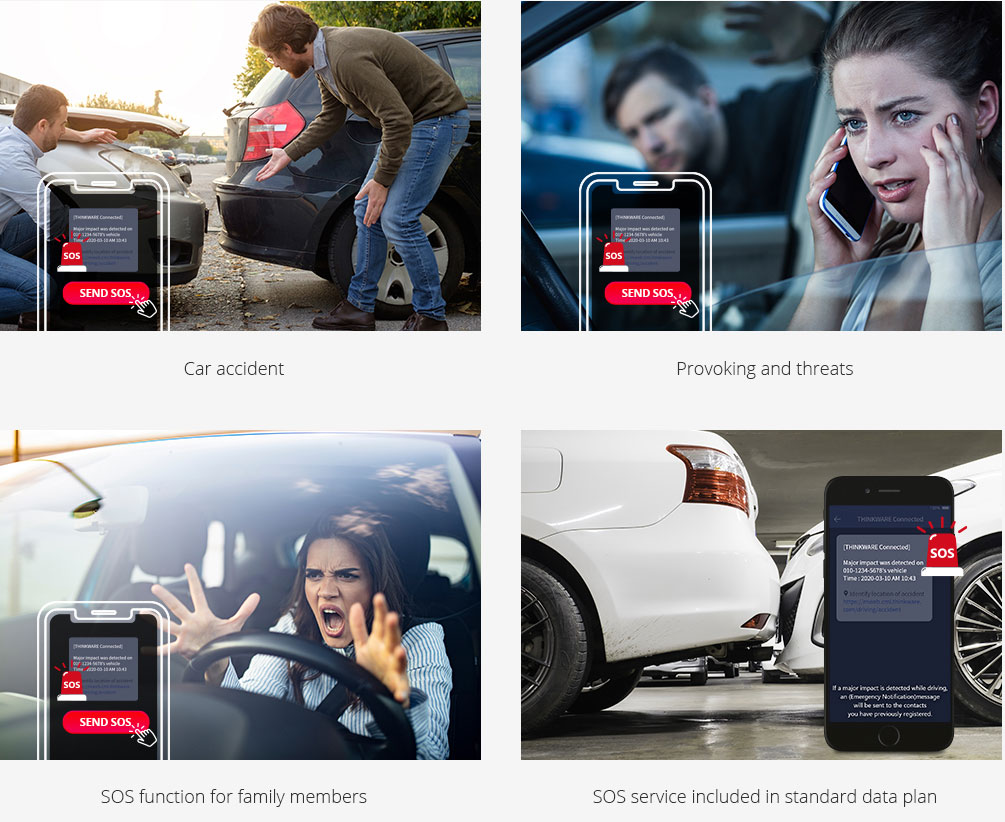 CONNECTED PLAN

OVERVIEW
The following features, support and storage time details are included in the FREE STANDARD THINKWARE CONNECTED PLAN.